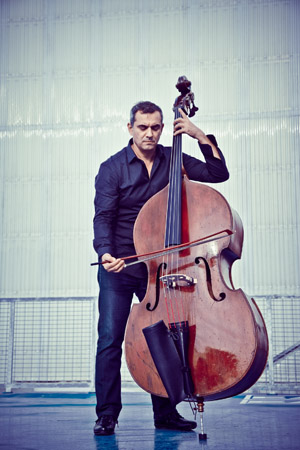 Claude Tchamitchian -composer, double bass player
For the last thirty years, Claude Tchamitchian has been working in several different artistic areas, as well as composing original music for dance and the theatre.
In 1994, he founded Emouvance, a structure that allows him to develop and be involved in artistic projects in the fields of contemporary and improvised music. During this same period he founded the Lousadzak Ensemble, one of the main strands of his varied career.
Over time, Emouvance has become more than just a record label (40 albums to date) – it is a real production organisation. In 2012, it set up the first edition of the festival known as "Les Emouvantes", held annually in Marseille.
For more than 25 years, Claude Tchamitchian has invested time and energy in teaching projects, as an associated artist, in residencies or as artist for a wide range of audiences, whether amateur or professional.
Present on the jazz and improvised music scene since the eighties, Claude's partners include Eric Watson, Christof Lauer, Andy Sheppard, Linda Sharrock, Dave Liebman, André Jaume, Marc Ducret, Beñat Achiary, Mat Maneri, Herb Robertson, Tony Hymas, Michel Portal, Gian Luigi Trovesi, Barre Phillips, Raymond Boni, Ray Anderson, Ernst Reiseger, Henri Texier, Jean-Marie Machado, Phil Minton, Kent Carter, John Tchicaï, Chris Biscoe, Jimmy Guiffre, Joe McPhee, Daunik Lazro, etc…
His regular groups are as follows:
Solo: After two albums, Jeu d'Enfants in 1993 and Another Childhood in 2010, he is now putting together a new solo album In Spirit, due in 2018.
As leader: Acoustic Lousadzak tentet, Traces sextet, Trio Amarco, Ways Out quartet, Trio Etchmiadzine
In duo with Gaguik Mouradian, Yom.
As sideman:
Trio & quartet Running Backwards and Andy Emler's Megaoctet, on Angelique Ionatos' Eros y Muerte and Reste la lumière, Yom's Le Silence de l'Exode, Esquina in César Stroscio's trio, Bruno Angelini's quartet, Christophe Marguet's quartet, in The Ellipse with Régis Huby, PierricK Hardy's quartet…